Helium LE MX Jersey 20
SKU: 203349-4765-19
WARNING: California Prop 65
Details & Specs
• Lightweight polyester-spandex mesh combined with high performance polyester knit
• Superior air flow design in the arms and shoulders
• Athletic fit with ultra-lightweight construction
• Moisture-wicking yarns provide quick-dry performance
• Shaped front collar and tapered cuff
• Drop-tail hem and long length protect midriff exposure
• Fade-free sublimation prints
Warranty
IMPORTANT NOTICE
Due to COVID-19 all product returns will be quarantined for 24 hours before being received in our warehouse. We apologize for this additional delay.
30–Day Satisfaction Guarantee
FXR is a premium apparel company and wants to ensure you are completely satisfied with your purchase of FXR Racing Product. If for any reason you are unhappy with an item you have purchased, you have 30 days within receiving your order shipped confirmation email to request a return!
Returns Policy
For all purchases of FXR product through a dealer/store, please return to said retailer and reference their return policy as these returns will be done at the retailer's sole discretion.
For all purchases of FXR product through www.fxrracing.com, please complete the Returns claim Submission to begin your returns claim.
Exchanges:
FXR does not process exchanges. If you would like to return an item for an exchange, please complete the Returns claim Submission. When your return is complete you can then place a new order via our website www.fxrracing.com.
Returns:
Returns are accepted within 30 days of your order shipped confirmation email.
Returns must be placed in the mail within 15 days of receiving your Return Authorization.
Returns are accepted on all regular priced and select sale items (NOT clearance items).
Products must be returned in their original condition (unworn, unwashed, in original packaging, with tags still attached).
Returns without a Return Authorization Number will not be processed.
Clearance Items:
All clearance items appear in the clearance category and are clearly marked "clearance item" on the product page. Clearance items are not eligible for returns or price adjustments.
Price Adjustments:
We will accommodate a one-time price adjustment for an item if it goes on permanent markdown (clearance) within 14 days of your order's purchase date. A refund of the price difference will be issued back to the original form of payment. Price adjustments will not be accommodated for any items that are part of Flash Sales, short-term campaigns, Black Friday, Cyber Monday or Boxing Week promotion.
Shipping & Handling:
Shipping and Handling charges associated with your initial order are not refundable. Return shipping charges are that of the customers responsibility. Please send your return back via a Trackable method. FXR is not responsible for packages lost in transit.
Minimum Purchase Based Threshold:
If you received a discount based on a minimum order requirement (BOGO, $500 minimum etc.) and wish to return items resulting in your order value dropping below the minimum requirements, your purchase will no longer qualify for the discount and the value of your credit/discount will be deducted from your refund.
Gift with Purchase:
During any 'Gift with Purchase' promotion, if you decide to return any of your purchased items, you MUST return the 'free gift' as well, otherwise the full retail value of the 'free gift' will be deducted from your refund.
Refunds:
Once we receive your return, it can take up to 15 business days for your return to be processed, funds to be transferred and the transaction to appear on your bank or credit card statement.
Something is Wrong with My Order:
In the unlikely event you received an incorrect order, or a damaged or defective item, please complete the Returns claim Submission and specify the issue at hand in the "Message / Return Reason" field.
An FXR Return Authorization Number is required for all FXR returns and will be sent to you once your claim is approved. Items without a Return Authorization Number will not be processed and will not be returned. The return address will depend on the country from which the product is being returned. Shipping costs are at customer's expense unless the fault is that of FXR's in which FXR will cover the shipping costs.
Please contact customer service for further inquiries / assistance.
Please note that the last day we can guarantee delivery for December 25th is Friday, December 13th. Any orders placed after this date may or may not make it in time for December 25th, but we'd recommend selecting our expedited shipping option to increase your chances.
Important: due to the high volume of orders over the holiday season, you may experience longer than normal order processing times.
The FXR Racing Inc. website www.fxrracing.com only ships within the United States. Please refer to the site country selector for deliveries outside of the United States
Free Shipping Promotion
"Free Standard Ground Shipping" is offered on orders with subtotals (after discounts, before tax) that are $100 or more (unless specified differently as part of a limited time promotional offer). Orders shipping to Hawaii and or Alaska will not qualify for this promotion. FXR reserves the right to change or discontinue any promotions at any time.
Please note: All "Free Shipping" promotions apply to Standard Ground Shipping unless otherwise specified in the promotion.
Order Processing
Once credit card authorization and verification have been obtained please allow up to 72 hours for processing (excluding weekends and holidays) before your order ships unless otherwise notified. Orders containing items that will be receiving custom name and or number applications may take upward of an additional 10 business days for processing before they ship.
Shipping Methods
Standard Ground Shipping (5-10 Business Days)
Flat Rate $10 – Under $100 (after discounts, before tax)
FREE – $100 and over (after discounts, before tax)*
Expedited Shipping (2-3 Business Days)*
*Orders shipping to Hawaii and or Alaska will only qualify for Standard Ground Shipping (5-10 Business Days) and will not qualify for our "Free Standard Ground Shipping" promotion.
Some exceptions may apply. Shipping costs and delivery times are subject to change. Shipping times are estimates and will very based on your ship to location. FXR will not be held responsible for shipping carrier delays caused by weather, holidays or natural disasters.
2019 / 2020 Shipping Holidays
TBD
Please contact customer service for further inquiries / assistance.
Customer Reviews
Write a Review
Ask a Question
Filter Reviews:
jersey
material
knee
gear
fabric
ventilation
brand
movement
races
pant
07/09/2020
Jeffrey S.
United States
Helium Jersey
Super durable material. Form fitting and great airflow.
07/09/2020
Preston J.
United States
Great Jersey
The gear set is awesome! I wore it for 4th of July races and it worked out perfectly!
07/04/2020
Alec
United States
Amazing
I've worn a handful of different brands of gear over the years but this by far Is the best! Awesome premium material, very nicely vented, absolutely love the matching pants as well. The pants have unmatched fit and I'm SO glad to see some puts padding in the knee of a pant considering that I'm not currently wearing knee braces! I have a steep discount for another brand of riding gear but everything was sold out at the time I needed a set, figured I would give these guys a try and I'm so happy I don't know that I'll ever go back to a different brand!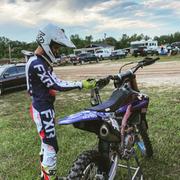 07/03/2020
Rob T.
United States
Making the switch.
Switching over from another brand that I've been using for years. FXR came highly recommended from a buddy. Good looking gear, well made and fairly priced. Making the switch.
05/28/2020
Rob T.
United States
Helium le mx
This is probably the best gear I've owned since I've been riding for 40 years. The fit and comfort is awesome. I like that the internal mesh is attached to the outer pant. It does not snag on my knee braces putting them on or taking them off. Very light and ventilation is good. Snug materials around the knee area help keep braces in place but movement is free. Leather in the knee area is thick but comfortable. The vented area behind the knee is very thin. Concerned that might tear easily but time will tell. The helium Jersey is a very athletic fit. A little tight in the neck area for me. Nice light and looks super cool. I look forward to getting my swag on.